General Information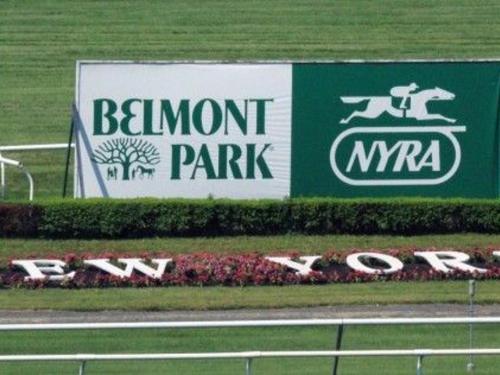 Belmont Park 2017 Spring/Summer and Fall Championship Meet
The 54-day Belmont spring/summer meet begins on Friday, April 28. The three-day Belmont Stakes Racing Festival will begin on Thursday, June 8, and is anchored by the 148th running of the Grade 1, $1.5 million Belmont Stakes on Saturday, June 10.
For General Information Inquiries please phone (718) 641-4700 or (516) 488 - 6000
Visit BelmontStakes.com the Official Website of the 2017 Belmont Stakes.
Belmont Park is a 430-acre racetrack in Elmont, N.Y.
Belmont Park
2150 Hempstead Turnpike
Elmont NY 11003
Main Course: 1 1/2 Miles
Last Turn to Finish on Main Track: 1,097 feet
Widener Turf Course: 1 5/16 Miles
Inner Turf Course: 1 3/16 Miles
Attendance Capacity: 85,000 - 90,000
Parking Capacity: 18,500 Cars
Trackside Dining: 2,300.
Total Seating Capacity: 32,941

Parking
General Parking is now FREE, with the exception of Belmont Stakes Day
PreferredParking - 2017 pricing information coming soon
Clubhouse Valet Parking - 2017 pricing information coming soon
Handicapped parking is available near the Clubhouse and Grandstand.
Parking is on a first-come first-serve basis after the official opening of the parking gates.
Appropriate parking fees apply. Handicapped permit or registration required.
Courtesy Shuttle Bus service is available from all general parking areas.
Parking fees will be at the discretion of management throughout the 2017 racing season.

Admission
Grandstand or Clubhouse admission at Belmont Park is TBA.
On Belmont Stakes Day, June 11, Grandstand admission TBA.
Clubhouse admission on Belmont Stakes Day TBA.
Children under 12 are free when accompanied with an adult.

Admission fees will be at the discretion of management throughout the 2017 racing season.
History of Belmont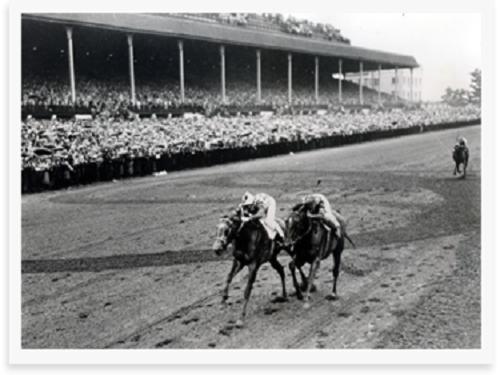 In 1902, a syndicate headed by August Belmont II and former Secretary of the Navy William C. Whitney sought land on Long Island to build the most elaborate track in America, one modeled after the great race courses of Europe. They found what they were looking for on the border of Queens County and Nassau County. Originally known as Foster's Meadow, the 650 acres of land included a turreted Tudor-Gothic mansion owned by William de Forest Manice, which was to serve as the track's Turf and Field Club until 1956.
The grand opening of Belmont Park on May 4, 1905, prompted the first of countless traffic jams in Long Island history as more than 40,000 fans, in all manner of conveyance, tried to arrive by the first race post time of 3 p.m. Not all of them made it in time to see August Belmont II's Blandy, at 7-1, hold off 100-1 shot Oliver Cromwell in the $1,500 Belmont Inaugural. Later, James R. Keen's Sysonby, who would be ranked No. 30 on the Blood-Horse Magazine's top 100 horses of the 20th century, made his 3-year-old debut against the super filly Beldame, another of Belmont's charges. In the stretch, Sysonby got unexpected competition from 20-1 Race King, and the two hit the wire in a dead heat.
The most celebrated race at Belmont Park is the Belmont Stakes, the final jewel of racing's Triple Crown. Since 1919, when Sir Barton was the first to sweep the Kentucky Derby, the Preakness and the Belmont, the "Test of the Champion" has crowned but 11 winners of racing's most prestigious, and elusive, prize.
Belmont Park holds a place in history in other areas as well. In 1910, Wilbur and Orville Wright staged an international aerial competition at Belmont Park that drew 150,000 spectators. In 1918, the track served as the New York City terminal for the first airmail service between New York and Washington, D.C. Belmont Park was the site of "War Relief Day" in 1940 to benefit the American Red Cross and in 1943 hosted "Back the Attack" Day, wherein fans had to buy a war bond to gain admission to the track. Total receipts that day were between $25 and $30 million.
Closed in 1963, the rebuilt Belmont Park grandstand reopened on May 20, 1968. Over the next decade it rocked to the cheers of thousands as Secretariat (1973), Seattle Slew (1977) and Affirmed (1978) joined Sir Barton (1919), Gallant Fox (1930), Omaha (1935), War Admiral (1937), Whirlaway (1941), Count Fleet (1943), Assault (1946), and Citation (1948) as Triple Crown winners. History was made in 2007 when Rags to Riches defeated Curlin to become the first filly in 102 years and one of only three to win the race.